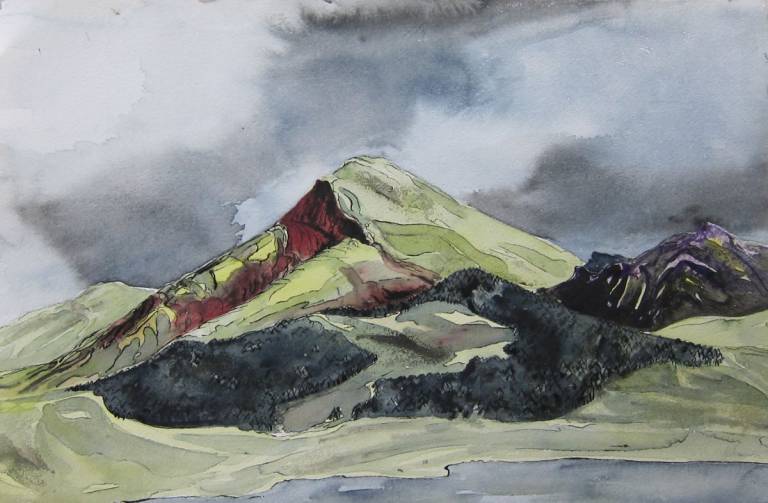 Daphne Reynolds studied at Huddersfield College of Art, but did not take up a career as an artist and printmaker until middle-age. 
In the 1950s she was able to take up painting as a full-time pursuit, and in the early 1970s she embarked on a career as a printmaker, having studied with Anthony Gross at the Slade School of Fine Art.

She began visiting Suffolk regularly in 1964 and lived in Bradfield st George since 1975.

Encouraged by Gross she became interested in mezzotints, and first showed them in London in 1972.  In the 'Arts Review', Ray Rushton wrote of her exhibition at Gainsborough's House, Sidbury in 1989 '.... Her gentle humour is everywhere apparent, so too is her delight in fruit, flowers, beasts and fish..'. It should go without saying, that her printing technique is unquestioned.

 At the Royal Society of Painter-Etchers and Engravers (1985-6) she won the Barcham Green Award. Her subjects included landscapes seen on her travels (particularly the desert scenery of Arizona and New Mexico) and everyday domestic objects (a flat-iron, icing cones, a scarf) and witty slightly surreal subjects such as an image of five Lemon Soles.

She was Cahairman of the Woman's International Arts Club 1964-1967, the first Chairman of Gainsborough's House Print Workshop 1978-79 and was a Fellow of the Printmakers Council.

Of her one-man show at the Albany Gallery, London Pamela Tudor-Craig '.... This is what I believe Daphne Reynolds is about: following the small footprints of creation across the homely world where strawberries can be as voluptous as melons, and the bumble bee sreads like a hippoptamous beyond the confines of a sheet of paper. I shall not slice a beetroot or scatter a handful of damons on a plate again without rememberiny what she has seen....'